posted by M.L. Sanico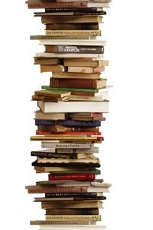 As you may have read in HBB's "About" section, we began this site over a year and a half ago because we felt that Hawai'i's literary achievements deserved a bigger spotlight on the interwebs. We wanted to help share Hawai'i's books with the world! Over the past year we've seen/found other blogs (like Susan Schultz's awesome Tin Fish Editor blog) and websites that showcase Island books and authors. We are always excited to see new sites popping up and have amassed quite a long list of browser bookmarks (keep an eye out for the launch of our official HBB Favorite Links page). Social networks have enabled publishers to be more interactive and Hawaiiana's online community has grown so much in such a short amount of time, we're truly happy to be a part of it!
This September, the Honolulu Advertiser and the Hawai'i Book Publisher's Association launched a new site called HawaiiReaders.com that allows for the collaboration of readers, authors and publishers into one super resource for Hawai'i books! Publishers share their book synopses and news of sales and signing events; there are discussion forums and literary headlines;  there is even a section where independent publishers and self-published authors can share their books and experiences (we like that!).  But the best part of the site is that readers can interact with authors  and each other.  Notable local writers like Michael Little and Chris McKinney post regularly about books and Hawai'i life in general—some of their articles are hilarious!  You can comment on any of the posts, and sometimes the publishers and authors comment back!  It's a wonderful tool for getting people excited and involved in the literary culture of Hawai'i.  I recommend visiting the site at www.hawaiireaders.com!  And you can follow HawaiiReaders on Twitter @HawaiiReaders!
We're so glad that there are now more platforms to discuss Hawai'i books and writing. We believe that the more voices there are in Island literature, the better it will become. Just remember, you can always find the latest  news and reviews (with a few quirky posts and interesting commentaries) on local books, authors and events right here at Hawai'i Book Blog!