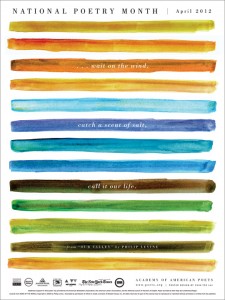 April is National Poetry Month! Find out all about this national celebration via the Poets.org website. The Hawaiʻi section features W.S. Merwin and Garrett Hongo as well as some short write-ups on our local literary presses and a selected "Poem about Hawaiʻi," Juliet Kono's Silverswords.
Here are some fun and easy suggestions that we came up with for observing National Poetry Month here in Hawaiʻi.
1. Support local poets/writers with Bamboo Ridge! Participate in their monthly writing challenges in"Bamboo Shoots." If you haven't been following the talented local renshi poets—Ann Inoshita, Juliet Kono, Christy Passion and Jean Toyama—on Bamboo Ridge you can start reading from the beginning. Their new renshi project focuses on the controversial Massie Affair.
2. Visit TinFish Press to buy chap books by local poets/authors like Lisa Linn Kanae. You can even download some for free! TinFish is a small nonprofit literary journal that features Hawaiʻi and Pacific writers whose artistic expressions cross national and aesthetic borders or comment on language and cultural issues.
3. Attend an M.I.A Art & Literary Series event. Usually the third Monday of every month at Fresh Cafe's Loft in Space, M.I.A. has live readings by poets and authors, sometimes music and slam. It's a hodge-podge of creative yummy that's always entertaining and inspiring. This month M.I.A. and the Hawaii Review Journal will
showcase winners of the Ian MacMillan prizes for poetry and fiction including Jaimie Gusman, Janine Oshiro and more.
4. Here's a really awesome way to support local poetry. Go to HawaiiSlam's First Thursday GRAND SLAM FINALS AND 9TH ANNIVERSARY SHOW! It's not too late to buy tickets. The 12 best poets from the 2011-2012 HawaiiSlam season will be performing their strongest pieces in a three-round elimination match to determine the members of the 2012 HawaiiSlam team.  Proceeds from this 9th anniversary fundraiser will go towards sending the team to the National Poetry Slam in Charlotte, NC.
5. Book reviews! Visit us here at Hawaiʻi Book Blog each week as we review a few poetry books and give some away!
6. Come back to HBB on April 26th for our version of "Poem in Your Pocket Day". Click on our aloha shirt pocket for a random Hawaiʻi poem to print out and carry in your pocket for the day. More to come on this.
7. Attend the Celebrate Reading Festival! If you're on Maui or the Big Island, local authors and poets will be hosting sessions and workshops. On Oʻahu, come see award winning author Gail Tsukiyama at UH Mānoa Art Auditorium, April 19th at 5:30 pm. Her novels reflect both her Chinese and Japanese heritage with stories of tradition and change, loss and renewal, and love and family.
And for more great ideas on activities for National Poetry Month read '30 Ways to Celebrate'.