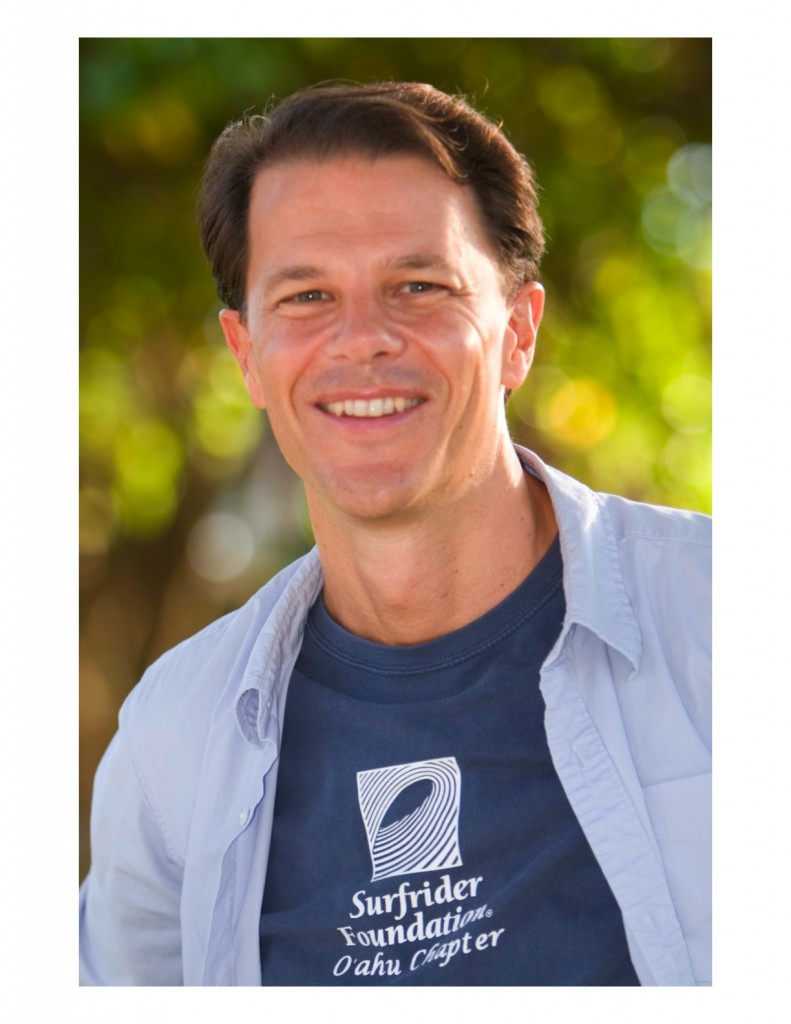 Stuart Holmes Coleman is the author of non-fiction books such as Eddie Would Go and Fierce Heart, the latter of which has recently been released in a paperback edition.  Stuart was generous enough to provide me with an author interview over the phone to talk about Fierce Heart, Makaha, Hawaiian culture, ocean environmentalism and books in general.  I know it's a bit long, but it was a terrific interview and definitely worth the read!
Tell us about the paperback edition of Fierce Heart.
The paperback edition of Fierce Heart just came out from St. Martin's Press in late June and I just got back from a book tour on the East Coast:  to New York City where my publisher is, the Hamptons where I have friends, and down to Charleston, South Carolina where I'm originally from.  It was nice in New York City for the launch party; we had very serious, talented hula dancers who have their halau in New York and come to Hawaii periodically.  They were some of the same dancers that performed at the release party for Eddie Would Go five years earlier.  It's just amazing to have a little bit of Hawaiian spirit and aloha in New York City and people were kind of blown away coming on this hot summer day to see hula dancers performing.  During all these occasions we were working with local Surfrider [Foundation] chapters and donating books for them to raffle off at their silent auctions.
And the paperback is available now in Hawaii?
Yeah, the paperback is available in most book stores all around Hawaii and throughout the country.   We're doing a signing and Surfrider party on Saturday, August 14 at Tiki's Bar & Grill in Waikiki.  That'll be the next event and we're in the process of setting up signings and special events at stores and book stores across Hawaii.
Buffalo Keaulana was such a great character in the book and much of the book, especially the beginning, focuses on him and his family like Brian and Rusty.  You also talk about other people in Makaha but everyone kind of filters through the Keaulana family.  Was it your original intention to somewhat center the book on the Keaulanas or did it just happen through your research?
Originally the idea for the book came from an interview I did with Brian Keaulana when I was doing research on Eddie Would Go.  He is this amazing waterman and also such a diplomatic representative of Hawaiian culture.  A lot of people have compared him to Duke Kahanamoku and say he's an heir to not only those amazing waterman skills but that real sense of Hawaiian aloha.  I went down there to interview him and was just amazed at his knowledge of Hawaiian culture, water sports and Hawaiian history.  So, I became intrigued with him.
Of course, I knew his brother Rusty was a three time world champion in longboarding and his father Buffalo was a very famous surfer in his own right—he had won the Makaha International in 1962—so I was just as intrigued with the entire family.  Then, I realized that Rell Sunn was like an older sister to Brian and Israel Kamakawiwo'ole was like an older brother and I felt like I couldn't focus on just Brian, or just his father, or even just the family; I have to do a portrait of this larger 'ohana that represents the leaders of Makaha and the Westside and really pioneers in the sport of surfing.  Just as Buffalo was a great lifeguard in his day, Brian became a lifeguard and then a Captain and revolutionized lifeguarding in the process.  He was the first person to introduce jet skis in ocean rescues and now that's used all around the world.  He pioneered that whole concept.
I pitched [Fierce Heart] as a biography of a community:  one of the most intensely Hawaiian communities where they have one of the highest population of Native Hawaiians and where some of the most talented watermen in the world come from—the last town on the coast of the West Side.
Makaha is such a rich cultural place with lots of great people that have come from there.  What other books, authors, artists would you recommend  to help somebody interested in the area, to help continue or complete their research?
I'm kind of like Studs Terkel in that I really love oral history so I did over 50 interviews with people from Makaha:  lifeguards, fishermen, divers, people who sailed on the Hokulea, professional surfers.  So in a way what I like doing is weaving this oral history together, their stories.
As far as books go, Greg Noll was a real big influence because he's written his book Da Bull and another book, a more recent one about his friendships with the Keaulanas.  Then there is The Encyclopedia of Surfing, Matt Warshaw's book is a must have for any person dedicated to surf history.
Then there were just resources on the Hōkūle'a such as Ben Finney's books which are fascinating accounts and Nainoa's [Thompson] speeches.  The bibliography of Fierce Heart is chock full of lots of other books that influenced me but most of it is really oral history, doing those interviews.
Did you record the interviews?
I did probably 100-200 hours of recording of more than 40 people, leaders in the community and their field.  It takes about three hours to record one hour of interviewing, so we were getting into almost 1000 hours of recording and transcribing, getting those quotes together in the book, and trying to figure out the storyline.  So yeah, it took me 4 years to put it all together.  It's not a full-time job, but definitely a half-time job!
It sounds like a great resource.  Have you ever thought about putting them together as a primary source?
I've been wondering about that.  It's something I've been debating what to do; I don't know if I should compile all the interviews together, or do a talk story book, or donate them to museums like the Surfing Heritage Museum in California, or do an audio recording.  I need to figure that out because I've been thinking about how they're a real resource to not just surfing culture but to Hawaiian history and the Hawaiian Renaissance in particular.
How have you seen surf culture change in Makaha in the last 20 years and what do you envision in the future?
Makaha was the birthplace of modern professional surfing, modern contests and big-wave surfing. The first big wave riders like Jon Kelly, Wally Froiseth, Woody Brown and George Downing first did big-wave surfing out in Makaha—the West Side.  Only later did Greg Noll and Peter Cole and all these guys discover the North Shore.  The Makaha International was the first major contest in the world, but it was always kind of a fun contest, an amateur contest.  It always had a lot of surfers in the water and all kinds of fun games that went along with it.  It was very competitive and the surfing was good but it wasn't for money.
Then there was the rise of professional surfing in the late 60's with the Duke Kahanamoku Contest and that exploded on the North Shore [which led to] the rise of pro surfing and the commercial aspects of the sport which became really big and is now a multi-billion dollar industry.  Then the West-Side and Makaha kind of got eclipsed by the North Shore, with all the attention and the media, so they wanted to cultivate more of that pure Hawaiian aspect of soul surfing.  So, Buffalo started the Buffalo Big Board contest in the 70′s and that was kind of to revive that fun spirit of the sport where it wasn't so commercial and it wasn't so competitive and they still had fun.
They'd have an over 250 pound division for the big boys like Buffalo, putting 250 pounds of Primo Beer on one end of a see-saw and having them walk the plank to weigh in for the contest.  A lot of fun like that.  Rusty Keaulana was a real kolohe surfer and competitor when he'd go out in his division with his friends.  He'd have this big smile on his face and knew he was up to something.  Right when they would start the heat he'd pull out a bottle of baby oil from the back of his suit and squirt it on his friends' boards and they'd end up sliding all over the place.  They were always up to fun with crazy antics like that.
What other projects are you working on?  I know you've mentioned the DOE and getting your books in the schools.
I felt that as a teacher there weren't a lot of informative books about local heroes and Hawaiian culture and icons that kids today could look up to that are homegrown.  Yet, we have a lot of them and surfing is an exciting sport—and not just surfing, all water sports; we're an ocean-based culture here in Hawai'i.  So, I didn't see a lot of books that were written about that with the exception of the college and upper-level high school students.   That was part of my motivation to introduce people to some of the icons that they didn't know much about.
People saw the bumper stickers "Eddie Would Go" but didn't know who Eddie was or where he was going or what motivated him.  It was the same with Rell; I'd give talks and I would be stunned that more people didn't know about Rell Sunn, because she's one of the most extraordinary people to come out of Hawaii.  She was one of the first female professional surfers and the first female lifeguard in Hawaii, a real trailblazer and just an extraordinary human being like Eddie Aikau.  I think kids today need to learn more about their own culture and local heroes.
Are you working on any other books in the future?
I am.  My background is in writing creative non-fiction and I think what made Eddie Would Go and Fierce Heart different is that its this new form of non-fiction that's sometimes called literary journalism in that its almost like a novel:  there's a lot of suspense, they're page-turners and so I really wanted to create this book.  But for my next book I'm going to write actual fiction and go into a novel.
Even though it's semi-autobiographical, about a guy who goes back to the South, during vacation he lived in Hawaii and he's still kind of dealing halfway with living between these two worlds of this deep racially divided Southern culture and this multi-ethnic Hawaiian culture.  It's kind of a contrast of these two worlds and it's also a bit of a mystery.  His brother is almost killed in this accident but it's almost like a murder-attempt so there's intrigue involved with that, he's trying to figure out what's happened to his brother.
That sounds interesting!
Yeah it's something I'm looking forward to finally finishing the damn thing.  It's been something I've been thinking about for years and years and years in the back of my mind.
You also mentioned to me that Eddie Would Go was being made into a movie?
Yeah, we're working with a production company based in LA and also working with the [Aikau] family and they bought the film rights to the book.  We want to make a tribute to Eddie and the Aikau family and also to Hawaiian culture.  We kind of want to do a Hawaiian "Whale Rider" where we really celebrate the Hawaiian Renaissance and this rediscovery of Hawaiian culture that happens.
It really transformed Eddie and his family and the entire state of Hawaii and rippled out to all of Polynesia during the Civil Rights movement and after, where people who were once ashamed to be Hawaiian all of a sudden became extremely proud of their heritage.  People like Eddie who wanted to learn all about wayfinding, voyaging, Polynesia and their mele, chants, 'olis and history of his people.  It won't be just a surfing movie it will be a really dramatic feature film about Hawaii, the Hawaiian Renaissance and water sports in general.  After all, surfing is Hawaii's gift to the world.  Actually, board sports are Hawaii's gift to the world so that includes surfing, skateboarding, snowboarding, kite surfing, windsurfing—basically anything that's done on a board, the concept came out of Hawaii and went around the world.
That'd be awesome, I'd look forward to that.
We need a movie like that.  There haven't been a lot of authentic movies about Hawaiian culture and modern Hawaiian culture and surfing; they're always full of bad stereotypes and cliches, so it'd be nice to do a really authentic, inspiring story about this kind of timeless hero from Hawaii.
One last quick question:  What are you reading right now?
That's a good question, I'm reading Pat Conroy's book South of Broad, because you know I'm from Charleston, SC and its all about Charleston …. Reading that and getting a flavor for Southern writing again.  I've been reading a lot of books by friends that were just published this year so I've been reading.. Chris McKinney's Mililani Mauka, and I've just finished another friend's book Saved by the Sea by David Helvarg who's an ocean conservationist, it's his history of How he worked at Save Our Oceans bit its also saved him many times.  And finally a book called Rowing Across the Atlantic about a woman named Roz Savage who just finished rowing across the entire Pacific Ocean as well, a friend and just an amazing book
Any closing thoughts?
On a final note, what's been cool for me is that I have to work to support myself, I don't make enough on my writing alone.  I was hired to be the Hawaii Coordinator for the Surfrider Foundation which is an environmental non-profit which keeps watch over the ocean, coastline and beaches and we do monthly clean-ups and that kind of thing.  It was really neat because in writing Fierce Heart one of the central characters is Rell Sunn and she was one of the founding board members of the Surfrider Foundation, so that's why I do a number of book signings with Surfrider chapters because the book has an environmental message which is basically what Rell used to tell all her kids and the community which is Mālama i ke kai, take care of the ocean, and she used to tell them we have to take care of the ocean because the ocean takes care of us.  You know if we have unhealthy waters and we're going fishing, swimming, diving, surfing…we're going to get sick.
She actually theorized that part of the reason she might have gotten her breast cancer was because she was in the ocean every day and she felt like the water at times was polluted, like from munitions dumping by the military off the Waianae coast which they did after World War II.  A lot of these chemicals from weapons are seeping out and some of the weapons are actually washing ashore.  Or it's agricultural.  They have pig farms in Waianae up in the mountains and she found out that a lot of the pig farmers were dumping all the toxic waste into the stream which was flowing into the ocean.  That, or the DDT spraying they used to do in the agricultural fields in Waianae.  She figured one or a combination of those factors may have contributed to her breast cancer so she became a really committed ocean environmentalist.
Hawaii has a long history of that.  Jon Kelly started "Save Our Surf" in the 60′s which was the first ocean/environmental group here in Hawaii and really a forerunner of the Surfrider Foundation that started in the 80's in California.  Now George Downing continues Save Our Surf and that legacy in Hawaii and we do our Surfrider chapters across the island, working to continue Rell's mission and legacy:  make sure we keep our oceans clean and free and accessible.
That's a great message and perfect way to end the interview.
***
I want to thank Stuart Holmes Coleman once again for taking the time to talk to me on the phone and share the insights of not only his book but of the strong, environmental and cultural messages that this story brings out.
Don't forget, Stuart is having his first Fierce Heart paperback event this coming August 14 at Tiki's Bar & Grill from 6-8pm (as part of Barefoot Wine and Surfrider party) and working on another event at Baby Awearness at Manoa Shopping Center on Sat., Aug. 28, from 11:00am-1:00pm.  Stay tuned to Hawaii Book Blog and our Events Calendar for more events and we will also be reviewing the book very soon.
You can read our review of Fierce Heart here: [Book Review: Fierce Heart]